In preparation for Valentine's Day, here are some Hamilton-themed Valentine's Day gifts (and gifs)!
Slate recently featured these Hamilton musical inspired Valentine's Day postcards from artist Casey Barber (who also came up with the My Shot cocktail recipe I featured on Hamil-Swag: Shot Glasses.  The postcards are available via Etsy for $20.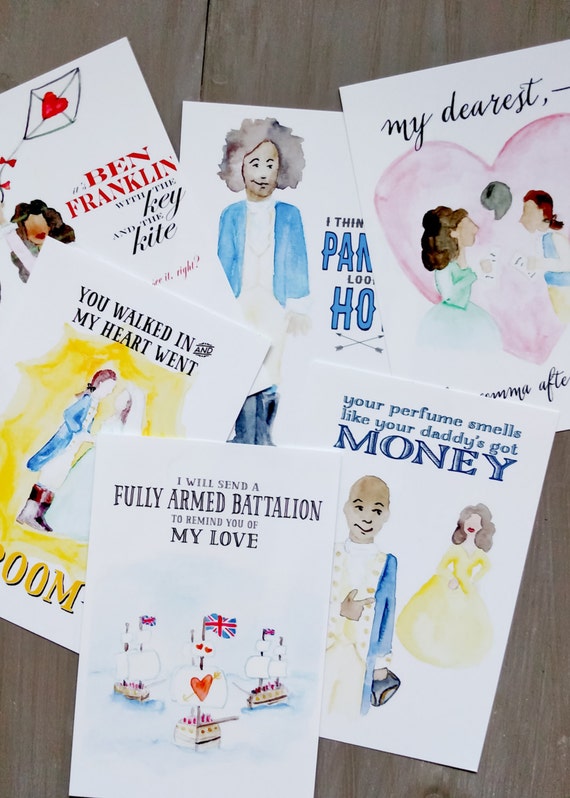 The New-York Historical Society sells a necklace for $78.00 that is inspired by one of Hamilton's love letters to Eliza that has the inscription: "I meet you in every dream."  The website's description states:
Few figures in the history of the United States have left such a profound legacy as that of Alexander Hamilton, America's first Secretary to the Treasury. This modern sterling silver pendant is inscribed with a delightful quotation from Hamilton's intimate letter to Elizabeth Schuyler, dated October 5, 1780, only a few weeks before their marriage. It displays his elegance as a wordsmith, his charm and his humanity, often forgotten among the great issues of military history and statesmanship for which he is best remembered.

Hamilton's complete sentence read: "I meet you in every dream – and when I wake I cannot close my eyes again for ruminating on your sweetnesses."

Pendant measures 1″ diameter.
And here is my favorite from Comediva's series of Founding Fathers Pick Up Lines: